Kitchen Remodeling in Red Bank, NJ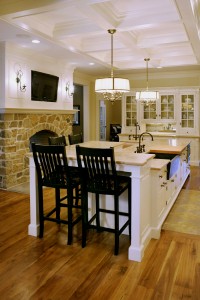 Creative Kitchens is a high end kitchen design company in Red Bank, NJ. The upscale kitchens created under the direction of David Chiarella are magnificent enhancements to elegant showhomes throughout the entire Monmouth County, New Jersey area. As featured in Stately Homes By-the-Sea, the exquisite custom kitchens created by the Creative Kitchens team are diverse and personalized kitchen creations. Having their work featured in a showhouse of this caliber is truly a testament to the superior work that David Chiarella and the team create.
From European cabinetry designs including French country kitchens and English kitchens, to more American and Traditional kitchen designs, this family kitchen business offers a wide array of kitchen layout design options, cabinet hardware, countertop surfaces, and decoration for the kitchen. As a total kitchen remodeling center, the artisans at Creative Kitchens take create pride in working with the customer to develop the most functional and sophisticated kitchens possible.
Located on East Front Street in downtown Red Bank, NJ, Creative Kitchens appeals to customers with discriminating taste, in search of the ultimate kitchen design for their Jersey Shore homes. From furniture quality cabinetry made from traditional woods, elegant storage such as built in cabinets, and custom space solutions like custom laundry rooms, the services provided by Creative Kitchens are stunning.
With kitchen design, bathroom design, lighting solutions, flooring options, sink and faucet configuration, and much more, there are virtually endless possibilities to design and create the kitchen of your dreams – perfect for any home in the Monmouth County and Red Bank areas, including Rumson, Fair Haven, Shrewsbury, Spring Lake, Sea Girt, Bay Head, Lincroft, Colts Neck, Little Silver and Middletown, as well as the greater Tri State area.
Creative Kitchens is an outstanding choice for high end custom kitchen design.